Some Rocky Mtn. Web Studio Success Stories
pg. 1 pg. 2 pg. 3 pg. 4




Eye-catching Artwork, Web Marketing, and Web Management Services that work!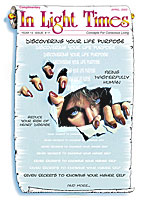 An Alternative Newspaper serving the SW United States.

Our art department created the cover each issue, assisted in creating eye catching advertising and the issue's feature story, and our web services department managed the ILT web site. And its not because there's a lack of talent at In Light Times - Multiple best selling authors Dannion Brinkley & Allen Cohen are among the Directors! We tutored them till they could manage on their own.
"I have worked with many talented writers, artists and designers throughout the years, and Rocky Mtn. Web Studio is by far the best! Subscribers are constantly commenting on the covers... and our web traffic has increased almost a thousand fold since they started managing the site."

Michelene K. Bell
Publisher
Jarrett-Martini Productions
A Full Service Entertainment Agency
"Last week the White House called looking for a certain entertainer... They said they called us after reviewing a number of agency websites! This week Billboard called... they're doing an article on the 10 agencies with the best web presence! Traffic keeps growing! Your consultations and private tutoring sessions have empowered me to create and confidently manage our company web site at a fraction of the cost that other agencies put into their sites on a monthly basis."


Gina Martini
Co-Owner, Jarrett-Martini Productions
Going International!

"Since you re-designed and expanded the web site, we've been getting so many email inquiries that the secretary can't keep up with everything. I know that I said we needed more traffic, but such a large increase was completely unexpected... I really like the way the graphics transition - It's just what I wanted. I've really had a lot of good feedback from staff, students, and visitors. We've been getting a lot of inquiries from overseas, and I'm looking forward to introducing our programs into new territories."
AlexSandra Parness
Founder, Inner Focus School Of Healing